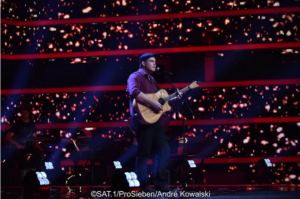 Blaney und Heuer haben schon so viele Male auf unserem Hof mit ihrem Irish Blues unsere Gäste in ihren Bann gerissen. Und nicht nur unsere Gäste wickeln sie um ihren Finger. Auch wir sind völlig hin- und weg von den zwei Jungs. Dabei ist uns egal, ob sie auf der Bühne stehen, oder am Morgen nach dem Konzert aus ihren Betten rollen, wenn wir mit den Kids Mittag essen. Diese Jungs machen einfach Spaß und wir freuen uns jetzt schon, sie auch dieses Jahr wieder bei der Mützingeta dabei zu haben.
Liam, die eine Hälfte des Duos, ist in diesem Jahr bei THE VOICE OF GERMANY bei Sat1 dabei.
Morgen, am Sonntag, den 4. November wird er versuchen sich einen Coach zu angeln und dann Deutschland zu erobern!
Wir wünschen Dir,
lieber Liam,
viel Glück!